One Day In Kathmandu – Top things to do in Kathmandu
Top sights of Kathmandu's are expand throughout the scattered capital, meaning most travelers end up missing major attractions. On this day tour, you will cover all the regions that are listed in UNESCO world heritage sites. Travel in an affordable and comfortable private vehicles between locations in the city, with an experienced guide on-hand to supply historic information and background. You can enjoy your lunch at wonderful Bhaktapur and proceed to temple Changu Narayan, it is the oldest temple in the Kathmandu Valley.
Kathmandu Valley Sightseeing Tour provides opportunity you to visit various heritage sites in Kathmandu valley. In and around Kathmandu Valley sightseeing tour gives you an opportunity of exploring live culture of medieval Kathmandu. These culture were especially developed during the reign of Malla dynasty. The city has large amounts of numerous sanctuaries, monasteries and shrines. The history of the valley begins with the Buddhist saint Manju Shree. He chopped a passage through the surrounding hills of Kathmandu valley to drain out the primordial waters and make the valley inhabitable. Over the centuries, a refined urban civilization developed, built on a unique combination of Hinduism and Buddhism religion.
What's the best time to visit Kathmandu Valley?
In general, September to November is the best time to visit the Kathmandu city because at this time of the year, the weather will be dry, clear skies, and plenty of cultural events. But in general, there's no bad time to visit the city.
The average annual temperature in Kathmandu, a capital city is a pleasant 18°C. The coldest month in Kathmandu is January (average 9°C) and the hottest month is June (average 23°C), and the wettest month is July with more than 15 days of rain in the month. November is the best month, if you want to avoid rainy weather.
Monsoon rains does not affect the Kathmandu valley comparing to other parts of the country, although some flooding may occur here and there but it shouldn't affect your sightseeing plans. Keep in mind that monsoon rains only last a few hours. Travelers should plan their activities around this, so you should have no problem visiting Kathmandu during the rainy season.
Few facts about Kathmandu Valley
The old name of Kathmandu was Kasthamandap, which was built in the 15th century. Kathmandu is considered as the city of magnificence. The diverse religion and ancient culture make this city as the city of glory. Kathmandu is pre-dominant by Newar community and it is the oldest inhabitants of Kathmandu.
Kathmandu valley is full of cultures and heritage sites and it has seven UNESCO World Heritage Sites. The greatness of Kathmandu is, it was never ruled by any other countries. Even though this country lies in between the two biggest countries India and China, which was ruled by the British but Nepal was untouched by foreigner's invasions. Kathmandu lies at an elevation of 1,400m from the sea level.
One Day in Kathmandu Itinerary
Departure Point and Time
Traveler pickup is offered by travel agency. Travel agency pick up their travelers from their hotel inside ring road including Bouddha area. Travelers should provide their hotel name for pick up location. The departure time for one day tour is sharp 7:00 AM.
Pass By: Swyambhunath Stupa
On the top of hill of Kathmandu there is a located of Swyambhunath Stupa aka "The Monkey Temple". Traveler should climb the stone stairs that are about 365 stairs to reach at the top of the stupa. From the top of the stupa traveler can have exceptional view of the Kathmandu city itself. You can face many small shrines and souvenir shops on the way to top with monkeys roaming here and there freely. You can take picture on the way, and some monkeys would possibly pose for a photo too. At the top you will see an intriguing monuments, a sizeable gold-plated thunderbolt (Vajra). Likewise, directly close to it is the huge white dome with a cubical top. After the earthquake of 2015 also the Swyambhunath stupa did not fall even though many other temples around the area are cracked. You will likewise see numerous prayers wheels of extraordinary sizes almost in each part around the Swayambhunath.
Stop At: Swayambhunath Stupa
You can see many Hindu temples and deities that co-exist in concord in this Buddhist site. You can go around the stupa spinning the prayer wheels. On the way, traveler can observe many other shrines, stupas, gravestones, and offering places. Next you will head to the direction of the western boundary of the Swayambhunath. You will see a sacred pond stuffed with coins and numerous people attempting to toss the coins in the core of the small pond. Local sellers are found around the location with stunning souvenirs and many Thanka arts. When you approach to the western sides, huge statues of Buddha can be found. You will find many prayers wheels of distinctive sizes nearly in every corner when you walk around the hill.
Duration: 15 minutes
Admission Ticket Required
Stop At: Amideva Buddha Park
At the end of the Swayambhunath tour, you will find yourself at the subsequent facet of the hill. At first sight, three big statues of Buddha will mesmerize you. At Buddha Park, there will be a higher sizeable chance to take a gander at the sparkling brilliant sculptures of Shakyamuni Buddha. After spending few time in the Park, you will head towards to your subsequent destination, which is Patan Durbar Square.
Duration: 10 minutes
Admission Ticket Required
Pass By: Kathmandu Durbar Square
In Kathmandu Durbar Square, you will explore the many historical and religious sites. It's architectural constructions are in the process of reconstruction because it was destroyed due to the earthquake of 2015 A.D. You will see a figure of "Hanuman", massive statue of "Kaal Bhairav" at Hanuman Dhoka, and a miniature model of Pashupatinath temple. You can explore the Kumari Ghar where the living goddesses of Nepal reside. You will locate the nearby companies selling inventive items and Thanka substances round.
Stop At: Kumari Chowk
Kumari Chowk, a courtyard inside a red-brick, three level building that was once home to a goddess Kumari. Kumari is a girl selected to be the town's living goddess. And after she reaches the puberty she will becomes a mere mortal.
Duration: 10 minutes
Admission Ticket Required
Pass By: Patan Durbar Square
The Patan Durbar Square is situated in the metropolis of Lalitpur which is the courtyard of the old Malla palace. The Patan is filled with Newari architecture and nearby Newar community. You will visit the three courtyards in Patan Durbar Square and the square is layered with red bricks on the floor. The first one Sundari Chowk is filled with stoned architectures and various statues. Then comes the Mul Chowk, one of the most guarded places. As theft of many sculptures and statues that came about in place of Patan Durbar Square. Finally, the third and closing courtyard homes the museum of Durbar Square which is the Keshav Narayan Chowk. Travelers can see many matters related to historical eastern civilization and an awful lot of artistic approach descriptiveness.
Stop At: Durbar (Central) Square
You will be amazed at the sight of the beautiful stone artistry of Krishna Temple at Durbar Square and this temple is created through stones only. Travelers can see twenty one shrines in the temple and carvings associated with Ramayana and Mahabharat. There is a massive bell nearer to the part of the Durbar Square, in the equal lane of Krishna Temple. The other beauty of this region is statues of kneeling elephants. Travelers can discover large sculpture of animals like lions on both aspects of entrance gates. The other incredibly integral structure are Mahaboudha, Rudravarna Mahavir and Machhendranath Temple in the south.
Duration: 25 minutes
Admission Ticket Required
Stop At: Golden Temple (Hiranya Varna Mahavir)
Hiranya Varna Mahavir, which is also known as golden temple, is a 12th century temple designed in pagoda style. The temple is covered with bronze statues and silver and gold decorations. In the higher layer of the temple, there is a golden image of Lord Buddha and a large prayer wheel. At the end of your tour, you will be dropped at your motel or predetermined destination.
Duration: 10 minutes
Admission Ticket Required
Stop At: Patan Museum
After you moving forward, you will enter a Keshav Narayan Chowk which is made into the Patan Museum. Traveler will get to take a look at many facts about Nepalese tradition and history and especially about historic Japanese civilization. Traveler can see many interior architectures and famous with comfortable surroundings inside the museum. Patan museum is a beautiful, peaceful vicinity to unwind and aspects a number Tantric, Buddhists, and Hindu artifacts.
Duration: 15 minutes
Admission Ticket Required
Pass By: Bhaktapur Durbar Square
Bhaktapur City, is also known as "the city of Devotees." Traveler can find many thrilling and inventive buildings from the entry phase to the exit point. Bhaktapur city is a beautiful metropolis that nonetheless has many old style houses. This region is inhabited with the useful resource of indigenous Newari people in a large group. In the central Royal Square of Bhaktapur, there is many creative pillars with statues of historical kings, ornamental gates at entrance, fifty five window palace, and Nyatapola temple. At last, be sure to try out regional delicacies and curd in the region before heading to another destination.
Stop At: Nayatapola Temple
Nayatapola Temple is designed in a pagoda-style and it is a five leveled roofed temple. This beautifully sculptured constructing is recognize as one of the tallest pagodas and is a beautiful example of the high artistry that went into buildings of this type. This five storey temple with a five tier roof stands only over thirty meters. To reach the top of a temple you have to take a steps in stair. As you stroll up the terraces, you will face a statues on both aspects of you, on each step.
Duration: 10 minutes
Admission Ticket Required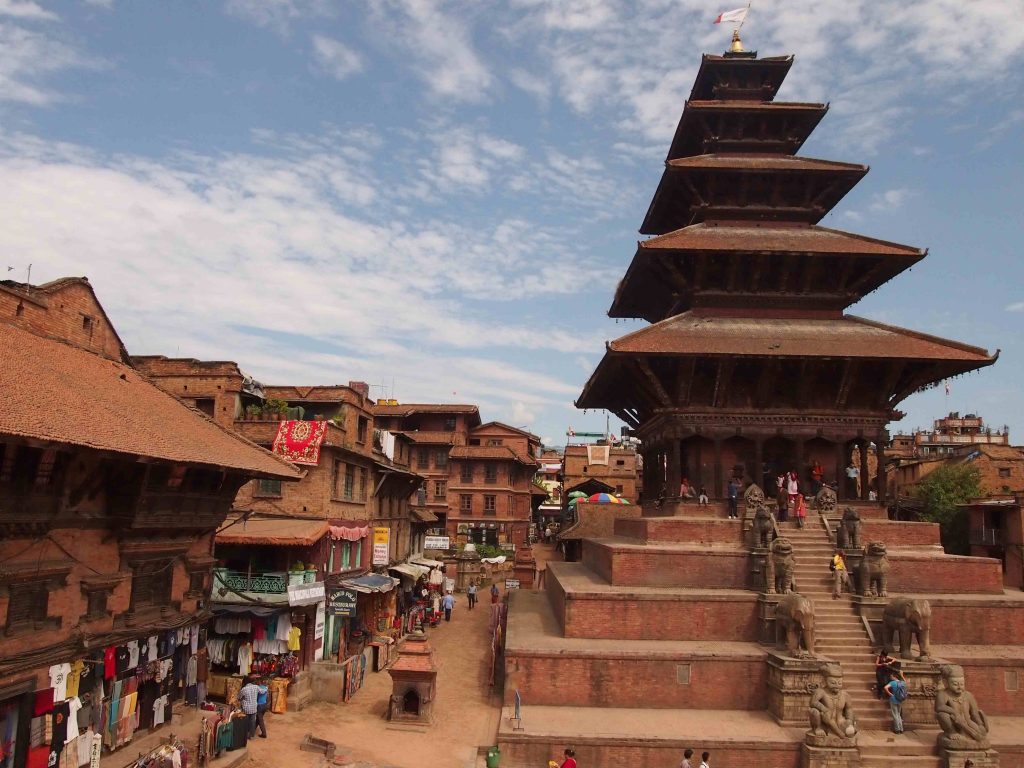 Stop At: Dattatreya Temple

The temple of Dattatreya is believed to be built with the useful resource of a single stem of a single tree and it is standing proudly on the premises of Dattatreya Square in Bhaktapur. The obscure quality of the sanctuary is that it doesn't stay the sculpture of Dattatreya the manner in which individuals endorses. Rather than discovering the determine of one body with three heads, we can see three icons of Brahma, Vishnu, and Shiva on left, center, and appropriate individually. A colossal tree remains in the rear of those icons.
Duration: 10 minutes
Admission Ticket Required
Stop At: 55 Window Palace
One of the gorgeous structure of Durbar Square is the palace of Fifty Five Windows. It is named after as there are fifty five windows carved in its architectural beauty. This palace is constructed around a number of internal courtyards that are linked together. It is believed that there have been ninety nine courtyards at the beginning of time. However, only nine of them are cutting-edge today. Another features of this palace is the most crucial entrance gate, referred to as "The Golden Gate."
Duration: 10 minutes
Admission Ticket Required
Stop At: Siddha Pokhari
Siddha Pokhari is located close to the first town gate in Bhaktapur and it is a lovely human-made pond which is 171 meters long and three meters deep. It is a favorite hangout area for many people. After Bhaktapur Durbar Square, you will give to each and every other notable square in Kathmandu valley.
Duration: 5 minutes
Admission Ticket Required
Stop At: Changu Narayan
One of the oldest temples that date lower back to the Licchavi period of the records of Nepal is the temple of Changunarayan. It is designed in the usual Nepali fashion which is made up of lovely stone and wooden carvings. On the top of the Changunarayan temple, you will see yourself surrounded via Champak trees. The sanctuary is encircled by means of sculptures of Lord Vishnu close by with various gods' inward the yard of the fundamental sanctuary. Travelers can see that the four entrances of temples have a pair of life sized beasts every guarding them. There are wonderful carvings in windows and doors that reflects the art and architectural capabilities of historical Nepal. On western gate, you can see stone pillars with inscription in Sanskrit. When you visit the temple from the east entrance, you will observe many monuments like Historical pillars, Garuda, Chanda Narayan, Sridhar Vishnu, and many more. Leaving behind these monuments, you can additionally see many Tantric sculptures and carvings close to the Changunarayan. Next you will head from Changunarayan.
Duration: 1 hour
Admission Ticket Required
Stop At: Pashupatinath Temple
Pashupatinath sanctuary is one of the biggest sanctuary buildings of Nepal which houses in excess of 500 sanctuaries and holy places around there. The Pashupatinath temple covers 0.64 hectares of land, is devoted mostly to Lord Shiva, "the destroyer." It is one of the UNESCO World Heritage Site. The temple is designed in pagoda fashion with lovely wood carvings and gold-covered two stages of roofs. Additionally, there is a big bronze statue of a bull facing the foremost entrance of the temple in the most temple complex. Besides temples, you will find Sadhus performing day by day rites on the financial institution of the river. You can find out the technique of Hindu cremation on the banks of the river. There are structures created in the banks of Holy River Bagmati for the cremation ceremony.
Duration: 1 hour
Admission Ticket Required
Stop At: Boudhanath Stupa
Boudhanath Stupa is the greatest mandalas of Nepal that is 36 meters tall with over 50 gompas built around it. It is one of the famous and most important Buddhist pilgrimage sites of Nepal. It is listed in UNESCO World Heritage Sites. You will see a full size dome shaped structure with fluttering prayer flags, as you enter the premises of the Boudhanath. These flags draw out from the four corners floating in the sky with the aroma of incense sticks filling the climate. In the event that you accomplish the stupa at the hour of petition, you will be profoundly removed with the tolls and supplication sounds. There are numerous previews of Buddhas around the stupa, and furthermore the petition wheels encompass the stupa. Beside these components of Boudhanath Stupa, you will find numerous restaurants and gift shops around there.
Where to stay in Kathmandu?
Thamel
Thamel is Kathmandu's tourist hub and literally there are numerous of hotels, guesthouses, and hostels in town. If you are a backpacker or a budget traveler, you'll likely stay in this part of town. You will love spending time in Thamel. It is a place where you will meet fellow travelers. It is likewise directly in the core of town, near the entirety of the significant activities in Kathmandu.
Lazimpat
Lazimpat is located just outside of Thamel, home to numerous high quality and luxurious hotels. This place is far more chilled out and quieter than Thamel. Therefore it is more comfortable than Thamel. It's location in the center of town is close to all the main attractions and restaurants Kathmandu has to offer.
Extra tips for visiting Kathmandu
Food safety – Avoid water that is not bottled or boiled. Avoid crude vegetables and pre-cut natural product as much as possible.
Do not give money to beggars that you see on the streets.
Be sure to exchange back all the Nepalese currencies before you leave
Do not touch someone's head or sit showing the bottom of your feet towards them. It is considered rude.
Always have some tissue paper and hand sanitizer with you at all times – and note that some of the toilets may require squatting.
Insist for a Running Meter in the Taxi. After 10 PM you do pay twofold of the meter toll however – that is the regularly acknowledged standard.