Lobuche Peak Climbing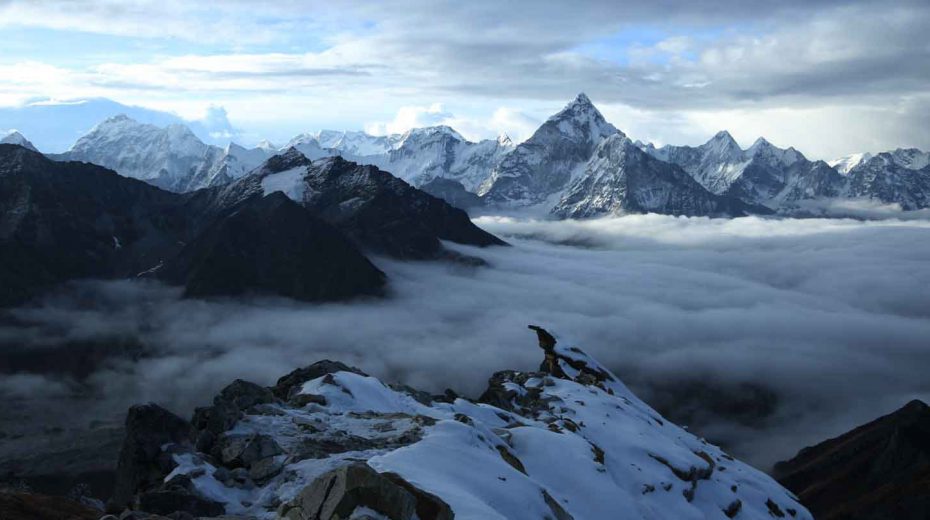 Day 01 - Arrive at Tribhuwan International Airport (KTM) Kathmandu
Arrive in Kathmandu at any time. Our airport representative will welcome you and explain the program further. Enjoy your overnight stay at the hotel.
Day 02 - Preparation for trek and climbing
Trip preparation in Kathmandu. Overnight at hotel, breakfast included.
Day 03 - Fly to Lukla and trek to Phakding (2652m/8699ft) Duration: 3 hours
Early morning move to the air terminal for Lukla flight. The trip to Lukla is a lifetime involvement with itself. The landing strip is at high assessment and the distinction between the two closures of the runway is about a remarkable 60 meters in particular. Trip to Phakding with a capturing, green scene with the perspective on Kusum Kangraru. Overnight at guesthouse.
Meals: Breakfast, lunch, and supper included.
Day 04 - Trek to Namche Bazaar (3440m/11283ft) Duration: 6 hours
We follow the Dudh Koshi, rising through Himalayan pine and cedar woodlands, to the praised town of Namche Bazaar. The town of Namche is a noteworthy general store where Nepalese and Tibetan merchants trade salt, dried meat and materials.
Other than being an awe inspiring goal to look for customary artworks, Namche remains the focal general store in the Khumbu that draws in Himalayan and marsh dealers. You will go through two days at Namche for acclimatization, visit nearby markets and invest energy with your group. On the climb, we catch our first looks at Everest and neighboring pinnacles. Overnight at guesthouse.
Meals: Breakfast, lunch, and supper included.
Day 05 - Namche Bazar and Everest View Hotel
This day is particularly separated for acclimatization. We will climb to Syangboche Airport (3700m), expected to be the most elevated air terminal on the planet, at that point keep moving to Everest View Hotel for extraordinary all encompassing perspectives on the Everest, Lhotse, Amadablam, Tawache and so forth. In transit back, we visit the Sherpa Culture Museum and Everest Photo Gallery. Overnight at guesthouse.
Meals: Breakfast, lunch, and supper included.
Day 06 - Trek to Tengboche (3860m/12660ft) Duration: 5 hours
The uniform and the simple path lead us towards the perspective on Mount Everest, sliding profound into the Dudh Koshi Valley at Pungki Thanka and starting here, it rises the correct flank of the Dudh Koshi valley to Tengboche Monastery (3860m). It is the otherworldly focal point of the Khumbu. The trip is extensive yet is more than satisfactorily remunerated by stunning perspectives on Mount Amadablam and on a crisp morning, perspectives on Mt. Everest and its encompassing pinnacles. Overnight at guesthouse.
Meals: Breakfast, lunch, and supper included.
Day 07 - Trek to Dingboche (4410m/14464ft) Duration: 5 hours
Plunge through a wonderful backwoods, cross the Imja Khola and journey across the town of Pangboche (3900m); maybe today is the most fascinating traveling since you won't lose height like on different days and you will appreciate perspectives on Mt. Amadablam, Mt. Lhotse and different pinnacles; the course proceeds through fields to Dingboche, known as the 'mid year valley'. Overnight at guesthouse.
Meals: Breakfast, lunch, and supper included.
Day 08 - Dingboche to Nagerjun (5100m/16728ft) and return Duration: 6 hours
This would be your second acclimatization day that requires around 6 hours of traveling to a height of 5100m. After breakfast, you climb Nagerjun (5100m), a slope situated on the flanks of the Chhukung valley straightforwardly above Dingboche.
The primary point is to move high and rest low. The trail gets steep now and again, bringing about a truly demanding day. Rising the slope could take as long as 5 hours at elevation.
From this elevation, there are acceptable perspectives on Lobuche East (6119m), Lobuche West (6145m), Taboche Peak (6367m), Thamserku (6608m), Kangtega (6685m) and Ama Dablam (6856m). On a sunny morning, you could even observe Makalu, the world's fifth most elevated mountain, including incredible perspectives on the Pheriche Valley.
After a brief rest, you start the plummet back to Dingboche and the stroll at elevation takes around 2 hours. After lunch, take a merited rest, as evening temperatures could drop quickly as the sun sets over the peaks. You will likewise go through a second night in Dingboche. Overnight at guesthouse.
Meals: Breakfast, lunch, and supper included.
Day 09 - Trek to Lobuche (4910m/16105ft) Duration: 5 hours
Journey along an expansive valley floor to Dughla, passing the Trekkers Aid Post at Pheriche (4240 m). This trip is staffed by western volunteer specialists and bolstered by the Himalayan Rescue Association, which offers treatment and discussion to adventurers. Proceed up the valley, picking up elevation. We come out of the valley to plunge to the yak fields of Lobuche (4910m). Overnight at guesthouse.
Meals: Breakfast, lunch, and supper included.
Day 10 - Trek to Everest Base Camp (5364m/17594ft) & back to Gorekshep (5181m/16994ft) Duration: 8 hours
After a short move through glades, look down at the Khumbu ice sheet. Straight ahead is Kalapattar – the best vantage highlight see the whole south face of Mt. Everest and the encompassing pinnacles. Following several hours, we will get to Gorekshep, and proceed with our excursion to the Everest base camp.
There isn't a lot of height gain, yet there are a great deal of high points and low points and, joined with elevation, this can be a debilitating trip – yet the excursion is justified, despite all the trouble. After around 3 hrs of climbing, you will show up at the base camp and appreciate a glorious perspective on the Khumbu ice sheet and icefall, where the Everest endeavors start. Overnight at guesthouse.
Meals: Breakfast, lunch, and supper included.
Day 11 - Hiking to Kalapattar (5545m/18218ft) - Gorekshep - Lobuche peak base camp (4910m/16105) Duration: 6 hours
We climb up to Kalapattar (5545m). It is the best perspective to observe Mt. Everest and the breathtaking Himalayan range. We at that point journey back to Gorekshep for hot breakfast and keep plummeting to Lobuche Basecamp. Overnight at Tent, breakfast, lunch, and supper included.
Pre-Climb Training: Our aides will furnish you with preparing on top climbing strategies after lunch. They show you how to utilize climbing riggings, for example, ice hatchet, climbing boot and crampons, outfit, ascender and so forth and on the best way to go all over utilizing ropes. Earlier preparing isn't obligatory for Lobuche Peak Climbing yet we accept that some preparation experience will support up your certainty and climbing aptitudes. This encourages you to build your odds to scale the culmination and appreciate the experience completely.
Day 12 - Summit to Lobuche east peak (6119m/20070ft) then back to Pheriche (4210m/13008ft) Duration: 10-12 hrs
We begin to climb Lobuche top promptly in the first part of the day yet it relies upon the climate condition. It takes around ten hours to arrive at the highest point. We can see the all encompassing perspectives on Everest, Lhotse, Nuptse, Ama Dablam, Tawache, Cholatse, Pumori, Changri and more from the pinnacle. After a sheltered move to the pinnacle, we gradually advance down to Pheriche. Overnight at guesthouse.
Meals: Breakfast, lunch, and supper included.
Day 13 - Reserve day for contingency
We can't ensure if the climate stays positive on our arranged day for the highest point (day 12). Along these lines, this day is utilized to be safe on the off chance that we will be not able to climb the highest point the on day 12 because of awful climate or different reasons. We ought to shrewdly defer our program of scaling the pinnacle if the climate gets horrible.
Some of the time you or your gathering individuals may get a few issues with adapting. This day might be utilized for the situation. In the event that the outing goes easily, we needn't bother with this extra day. Overnight in the tent/guesthouse.
Meals: Breakfast, lunch, and supper included.
Day 14 - Trek to Namche (3440m/11283ft) Duration: 7 hours
Easy walk along the Imja Khola, short climb to Tengboche, descend Pungki Thanka and complete steep to Kyangjuma, and easier trail to Namche. Overnight at guesthouse.
Meals: Breakfast, lunch, and dinner included.
Day 15 - Trek to Lukla (2800m/9184ft) Duration: 7 hours
The trek continues along the Dudh Kosi River to the small mountain airstrip at Lukla, where you will catch your return flight to Kathmandu. Overnight at guesthouse.
Meals: Breakfast, lunch, and dinner included.
Day 16 - Fly back to Kathmandu
The 30-minutes amazing scenic flight back to Kathmandu. Overnight at hotel, breakfast included.
Day 17 - Leisure day
Spend the day in Kathmandu, to rest or to explore, as per your inclination. Overnight at hotel, breakfast included.
Day 18 - Farewell
Approximately 3 hours before the scheduled flight, a representative from the Visit View Nepal Trek will take you to the airport. If you have more time you can do some shopping or sightseeing.
What's included
All ground transports in private vehicle including airport transfers
Four nights' accommodation with breakfast at a 3-star category hotel in Kathmandu
English speaking trekking guide and highly experienced (2-3 times Everest Submitter) climbing guide for Lobuche peak including their foods, accommodations, salary, insurance etc.
Full board meals with tea/coffee (breakfast, lunch, and dinner) during the trek and climb
Best available twin sharing lodge to lodge accommodation during the trek and tented accommodation during the climbing
Seasonal fruits during the trek
Boiled water will be provided during the climb
Require porters (two clients: 1 porter) and their food, accommodation, salary, equipment, and insurance
All require permits including TIMS, Sagarmatha NP, Lobuche climbing etc.
General climbing equipment such as rope, ice screw, snow bar etc.
All taxes and service charge
Round trip flight Kathmandu – Lukla, and Lukla – Kathmandu including departure taxes
Duffle bag, down jacket and sleeping bag during the trek
Visit View Nepal Trek T-shirt, trekking map, and trip achievement certificate
Comprehensive first aid medical kit
What's not included
Meals not specified in the 'Meal Inclusions' in the itinerary'
Drink including - water, coke, Fanta, alcoholic beverage, snacks, and other personal expenses
Travel insurance
International airfare
Hot shower during the trek except for Lukla, Phakding and Namche
Personal trekking equipment
Nepal entry visa
Tips and gratuities for trekking staff and drivers
Stand tall on the Lobuche Peak and get the three sixty degrees all encompassing perspective on mountains at its most exciting clothing offering directly before you. A pinnacle that lies so near the Khumbu ice sheet offers the best perspectives on mountains in the Khumbu area like Mt. Everest, Mt. Ama Dablam, Mt. Thamserku, Mt. Lhotse, Mt. Nuptse and some more. Accomplish the greatness of being on the head of the world for example Everest Base Camp and experience the climbing experience of a pinnacle that stands directly on the Lobuche which is the keep going settlement area while in transit to Everest Base Camp. Lobuche Peak Climbing is actually troublesome and one ought to have some ice aptitudes for moving along a precarious, vertical and frigid path.
Lobuche Peak Climbing
Discussing the trip, it is very exhausting and one ought to have great resistance ability to persevere through the brutal atmosphere and climate alongside slenderness noticeable all around. As the ascension is specialized, steep and rough, one ought to have legitimate aptitude to deal with ice, hatchet, and ropes. Related knowledge is an unquestionable requirement to achieve this endeavor effectively. The awe inspiring perspectives on mountains like Mt. Pumori, Mt. Tawache, Mt. Everest, Khumbu Himal, Khumbu icefall, and so on will be a gift for all your demanding endeavors.
In this way, on the off chance that you want to persevere through the slimness noticeable all around and have enough abilities to climb Lobuche Peak, contact Visit View Nepal Trek for a solid travel accomplice.