Lobuche Peak Climbing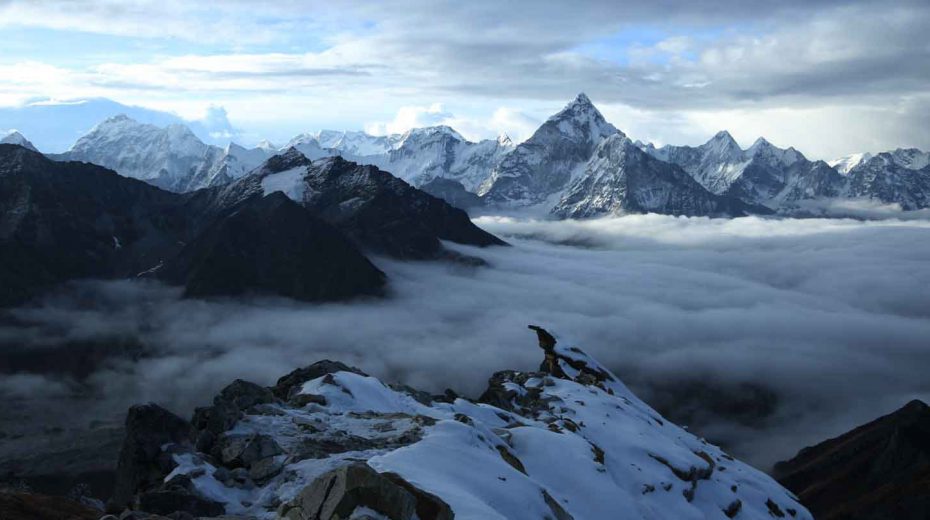 Day 01: Arrive at Tribhuwan International Airport (TIA), Kathmandu
Arrive in Kathmandu at any time. A representative from our office will welcome you at the airport. He will explain the program further. Overnight stay at the hotel.
Day 02: Preparation for trek and climbing
Trip preparation in Kathmandu. Checking climbing gears and equipment's. Overnight stay at hotel.
Day 03: Fly to Lukla and trek to Phakding (2,652m). Duration: 3hrs.
Early morning you will take a flight to Lukla, which is a lifetime experience in itself. The airfield is at high evaluation. The difference between the two ends of the runway is about an exceptional 60 meters only. You will meet your porter at the Lukla. From Lukla, we trek to Phakding with an arresting, green landscape with the view of Kusum Kangraru. Overnight stay at guesthouse.
Day 04: Trek to Namche Bazaar (3440m). Duration: 6 hrs.
We follow the route of Dudh Koshi River. We ascend through Himalayan pine and cedar forests, to the celebrated village of Namche Bazaar. The village of Namche is a historic trading post, Nepalese and Tibetan traders exchange salt, dried meat and textiles.
Besides being a splendid destination to shop for traditional crafts, Namche remains the central trading post in the Khumbu that attracts Himalayan and lowland merchants. We will spend two days at Namche. We use those days for acclimatization, visit local markets and spend time with your team. On the hike, we capture our first glance of Everest and neighboring peaks. Overnight stay at guesthouse.
Day 05: Namche Bazar and Everest View Hotel
This day is particularly used for acclimatization. We will hike to Syangboche Airport (3700m), supposed to be the highest airport in the world. We continue climbing to Everest View Hotel for great panoramic views of the Everest, Amadablam, Lhotse, Tawache, etc. On the way back, we visit Everest Photo Gallery and the Sherpa Culture Museum. Overnight stay at Guesthouse.
Day 06: Trek to Tengboche (3,860m). Duration: 5 hrs.
The uniform and the easy trail lead us towards the view of Mount Everest. We descend deep into the Dudh Koshi Valley at Pungki Thanka. From Pungi Thanka, we ascends the right flank of the Dudh Koshi valley to Tengboche Monastery (3860m), which is the spiritual center of the Khumbu. The climb is lengthy but the journey is beautiful with the views of Mount Amadablam and on a clear day, views of Mt. Everest and its surrounding peaks. Overnight stay at guesthouse.
Day 7: Trek to Dingboche (4410m). Duration: 5 hrs.
Today our journey begins with descend through a beautiful forest. You will cross the Imja Khola and pass through the village of Pangboche (3900m). Today is the most interesting trekking because you will not lose altitude like on other days. You can enjoy with the views of Mt. Amadablam, Mt. Lhotse & other peaks. The route continues through pastures to Dingboche, known as the 'summer valley'. Overnight stay at guesthouse.
Day 8: Dingboche to Nagerjun (5100m) and return. Duration: 6 hrs.
This would be your second acclimatization day. You will do a trek for 6 hours to reach at an altitude of 5100m. After breakfast, we ascend to Nagerjun (5100m). Nagerjun is a hill located on the flanks of the Chhukung valley directly above Dingboche.
The main purpose is to climb high and sleep low. The footpath becomes steep at times, resulting in a physically strenuous day. It takes about 5 hours to reach at an altitude.
You will be offered by the wonderful views of Ama Dablam(6856m), Kangtega(6685m), Thamserku(6608m), Taboche Peak (6367m), Lobuche West(6145m), and Lobuche East (6119m). On a clear weather, you could even see Makalu, the world's fifth highest mountain. Also, you will see a great views of the Pheriche valley.
After spending a few minutes, we will descend back to Dingboche. The walk at altitude takes about 2 hours. You can take a well-deserved rest after lunch. The afternoon temperatures could drop rapidly as the sun sets over the mountain tops. You will also spend a second night in Dingboche. Overnight stay at guesthouse.
Day 9: Trek to Lobuche (4910m). Duration: 5 hrs.
We will pass through the Trekkers Aid Post at Pheriche (4240m), and trek along a broad valley floor to Dughla. This trek is staffed by western volunteer doctors which is supported by the Himalayan Rescue Association. It offers treatment and consultation to trekkers. Continue up the valley, gaining altitude. After the trail of valley is completed we descend to the yak pastures of Lobuche (4910m). Overnight stay at guesthouse.
Day 10: Trek to Everest Base Camp (5364m) & back to Gorekshep (5181m). Duration: 8 hrs.
After a short climb through pastures, look down at the Khumbu glacier. We keep on walking towards Kalapatthar. Kalapatthar is the best vantage point to view the majestic mountain. You can view the entire south face of Mt. Everest and the surrounding peaks. After a couple of hours, we will get to Gorekshep. We then continue our journey to the Everest Base Camp.
In today's journey there is not much elevation gain but there are a lot of ups and downs. The ups and downs, and combined with altitude, it can be an exhausting trek – but the journey is worth it. After approx. 3 hrs of hiking, you will arrive at the base camp. From base camp you can enjoy a magnificent view of the Khumbu glacier and icefall. Overnight at guesthouse.
Day 11: Hiking to Kalapatthar (5545m) – Gorekshep – Lobuche peak base camp (4910m). Duration: 6 hrs.
We hike up to Kalapatthar (5545m), the best viewpoint to witness Mt. Everest and the striking Himalayan range. We then return back to Gorekshep. We do our breakfast and continue descending to Lobuche Base Camp. Overnight at Tent.
Pre-Climb Training: After lunch, our guides will provide you with training on peak climbing techniques. He will teach you how to use climbing gears i.e. ice axe, harness, ascender, climbing boot and crampons, etc. and on how to climb up and down using ropes. Training is not mandatory for Lobuche Peak Climbing. But some training experience will boost up your confidence and climbing skills. It helps you to increase your chances to scale the summit and enjoy the experience fully.
Day 12: Summit to Lobuche east peak (6119m) then back to Pheriche (4210m). Duration: 10-12 hrs.
Early morning, we start to climb Lobuche peak which depends on the climate condition. To reach the summit it takes about 10 hours. From the summit, we can see the panoramic views of Everest, Nuptse, Lhotse, Tawache, Ama Dablam, Pumori, Cholatse, Changri and many more. After a safe and successful climb to the peak, we slowly make our way down to Pheriche. Overnight at guesthouse.
Day 13: Reserve day for contingency
We cannot ensure if the weather remains favorable on our planned day for the summit (day 12). We should wisely postpone our program of scaling the peak if the weather gets unfavorable. So, this day is used just in case if we will be unable to climb the summit on day 12 due to bad climatic condition or other reasons.
Sometimes there will be problems related to acclimatizing to you or your group members. This day may be used in the case. If the trip goes smoothly, we do not need this spare day. Overnight in the tent/guesthouse.
Day 14: Trek to Namche (3440m). Duration: 7 hrs.
Today we will do an easy walk along the Imja Khola and short climb to Tengboche. We then descend Pungki Thanka and complete steep to Kyangjuma, and easier trail to Namche. Overnight at guesthouse.
Day 15: Trek to Lukla (2800m). Duration: 7 hrs.
The trek continues along the Dudh Koshi River to the small mountain airstrip at Lukla. You will catch your return flight to Kathmandu. Overnight at guesthouse.
Day 16: Fly back to Kathmandu
The 30-minutes amazing scenic flight back to Kathmandu. Overnight at Hotel.
Day 17: Leisure day
Spend the day in Kathmandu, to rest or to explore, as per your inclination. Overnight at hotel.
Day 18: Farewell
A representative from Visit View Nepal Treks will take you to the airport approx. 3 hours before the scheduled flight. If you have more time you can do some shopping or sightseeing.
What's included
All ground transports in private vehicle including airport transfers
Four nights' accommodation with breakfast at a 3-star category hotel in Kathmandu
Full board meals with tea/coffee (breakfast, lunch, and dinner) during the trek and climb
Best available twin sharing lodge to lodge accommodation during the trek and tented accommodation during the climbing
English speaking trekking guide and highly experienced (2-3 times Everest Submitter) climbing guide for Lobuche peak including their foods, accommodations, salary, insurance etc.
Require porters (two clients: 1 porter) and their food, accommodation, salary, equipment, and insurance
Seasonal fruits during the trek
Duffle bag, down jacket and sleeping bag during the trek
Visit View Nepal Treks T-shirt, trekking map, and trip achievement certificate.
Round trip flight Kathmandu – Lukla, and Lukla – Kathmandu including departure taxes
Boiled water will be provided during the climb
Comprehensive first aid medical kit
General climbing equipment such as rope, ice screw, snow bar etc.
All require permits including TIMS, Sagarmatha NP, Lobuche climbing etc.
All taxes and service charge
What's not included
Meals not specified in the 'Meal Inclusions' in the itinerary'
International airfare
Travel insurance
Nepal entry visa
Hot shower during the trek except for Lukla, Phakding and Namche
Personal trekking equipment
Drink including - water, coke, Fanta, alcoholic beverage, snacks, and other personal expenses
Tips and gratuities for trekking staff and drivers
Be situated as one of the Khumbu Glacier giants in Lobuche's settlement, the peak has an elevation of 6119 m. in the east and 6145 m. in the west. (Approximately). The Lobuche peak is one of Nepal's most stunning climbing peaks which belongs to the Everest massif. We explore the east side of the mountain on this journey. The Lobuche east raises the curiosity of many travelers which sit comfortably beside the route next to the Everest Base Camp (EBC). The best season to visit this popular climbing peak is September-November and March-May. The favorable months provide the scenic view of the Everest region and the fantastic views of the monasteries. The charm of the best seasons are that it give us with the crystal clear Himalayas and the lush green hills in the lower part of the mountains.
An 18-day trek, we categorize this trip as one of the more challenging ones in the Khumbu region. It includes more challenges than the Island Peak and requires more experience in climbing. It is one of the more difficult journeys in the area. It is thrilling and introduces you to high-altitude mountaineering in the Everest region. We travel through the regular Everest route. We leave Lukla as we summit to the Lobuche peak via the Khumbu valley. The Himalayan summit is a demanding but doable expedition for people in good fitness. It is an achievable peak with two great trip; The EBC trek and Lobuche peak.
Highlights of the journey
Take on the thrilling flight to Lukla, you can see the beauty of the majestic Everest and Lobuche East.
Prepare for the exciting yet adventurous tour in Kathmandu and relax a day in the capital.
Achieving the feat of being under the world's highest base camp; The EBC, and climbing Lobuche Peak all within a short time frame.
You will have an awesome views of the majestic mountains in the Khhumbu valley, i.e. Mount Everest, Makalu, Lhotse, and Ama Dablam.
Enjoy with the mountain views, lush green forests, alpine landscapes, and natural wildlife, locations, and spiritual monasteries of the Everest region.
One of the most popular climbing peaks is often used to get acquainted with Himalayan climbing.
Be a part of the Sherpa culture and know about their unique culture and daily life.
Lobuche Peak Climbing Difficulty
The Lobuche Peak Climbing is not an easy one, however, it is still a doable peak. It is quite a challenging peak. The climbers are recommended to hike up to the Everest Base Camp and climb the mountain. The climbers need basic training with every ascends and descend. Climbers should have prior knowledge of ropes, crampons, and ice axes. We suggest you have good resistance to keep up with the harsh climate and weather, as you constantly travel at a higher altitude. The trails are rocky, steep, and rugged; hence, proper knowledge of using the climbing gears will come in useful in this challenging trek.
Is this expedition right for me?
Numerous ways can declare if a journey is the right one for you. A few element related to deciding the climbing are personal experience and physical fitness, strength, and difficulty. In that regard, the EBC trek and the Lobuche Peak Climbing are pretty strenuous trek and tempting ones. The trail offers you nothing short of magic and the true essence of the common culture in the region.
So, if you have a few collective experiences of trekking, mountaineering, and climbing, then we would say yes, this trip is suitable for you. In addition, being physically active is a requirement for this journey. Hence, if you tick all these boxes, then Lobuche Peak Climbing should be included in your list of following trips. Additionally, the Visit View Nepal Treks offers a range of other incredible climbing peaks in Nepal that might suit your preferences better.