Ultra Light Flight Nepal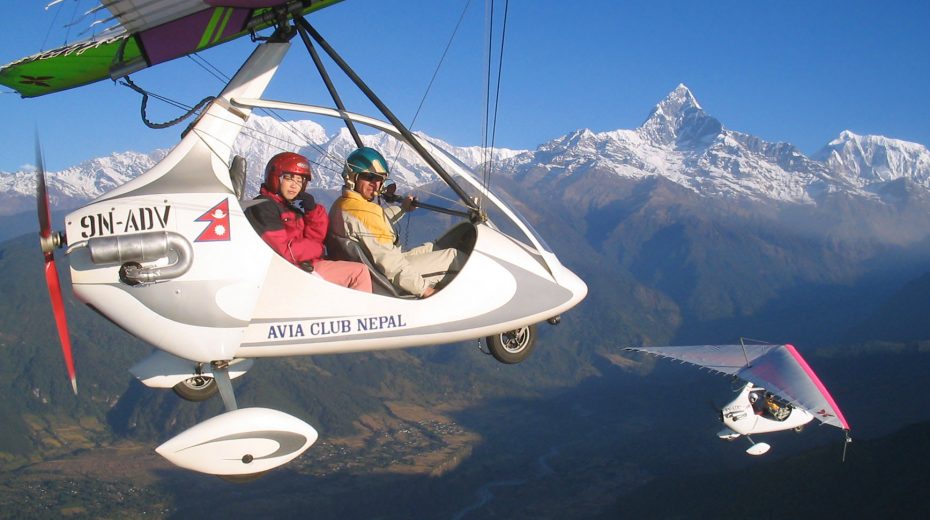 What's included
What's not included
A courageous action that encourages you experience the excellence of pleasant Pokhara valley and Annapurna display at the same time. Ultra Light Flight Nepal in Pokhara is an exciting encounter as you fly over a little airplane to taste the magnificence of alleged regular heaven. The apexes of mountains like Mt. Annapurna, Mt. Dhaulagiri, Mt. Nilgiri, Mt. Machhapuchhre and numerous other neighboring pinnacles rising corresponding to us and the Pokhara valley underneath with sky blue lakes implanted in it; the excellence that our eyes will get is essentially unique to some other magnificence of nature.
Fly over the super light flight and get a superior perspective on the rich scene, slopes, valleys, lakes, cascades, mountains, woods and some more. Ultra Light Flight Nepal (Super light flight) is a fifteen to an hour and a half excursion where you fly like a feathered creature in a free and free sky and ascend to a height of 5000 ft. Ascend over the sky and fly unreservedly like a winged creature! Super light flight is something other than a flight; it's an image of opportunity and freedom. Appreciate the magnificence of Sarangkot, Pokhara valley and all encompassing perspectives on Annapurna vistas as you take off over the mists like a free aeronautical creature.
Ultra Light Flight Programs and Pricing:
Duration: 15 minutes flight
Price:  USD 95.00
Duration: 30 minutes flight
Price: USD 170.00
Duration: 60 minutes flight
Price: USD 270.00
Duration: 90 minutes flight
Price: USD 390.00
NOTE: Flying cost and schedule subject to be change with or without prior notice. Flights depend on weather condition.