Ultra Light Flight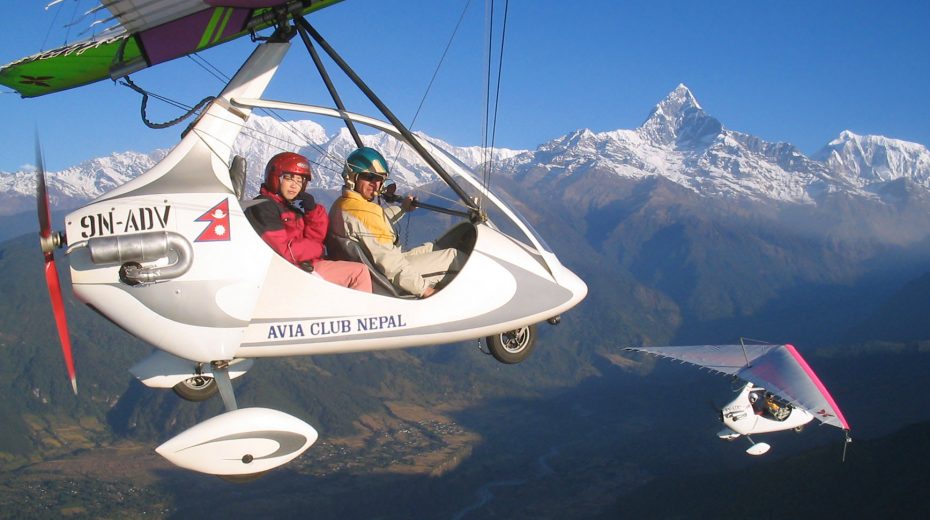 What's included
What's not included
Ultra-Light Flight helps you experience the beauty of the picturesque Pokhara valley and Annapurna panorama all at once. As you fly over a small aircraft to taste the beauty of the so-called natural paradise, Ultra-Light Flight in Pokhara is a thrilling experience. The pinnacles of mountains like Mt. Machhapuchhre, Mt. Nilgiri, Mt. Dhaulagiri, Mt. Annapurna, and many other surrounding peaks rising parallel to us and the Pokhara valley underneath with azure lakes set in it; the attractiveness that our eyes will get is simply incomparable to any other magnificence of nature.
Flying over the flight helps you to get a bird's eye view of the valleys, lush landscapes, forests, hills, waterfalls, lakes, mountains, and many more. The flight is a fifteen-to ninety minutes journey. You fly like a bird in a free and open sky. During flight, you will be at an elevation of 5000 ft. Rise above the sky and fly freely like a bird! Ultra-light flight is a symbol of freedom and liberty. As you soar above the clouds like a free aerial animal, admire the beauty of Sarangkot, Pokhara valley and panoramic views of Annapurna vistas.
Ultra-Light Flight Programs and Pricing:
Duration: 15 minutes flight
Price:  USD 95.00
Duration: 30 minutes flight
Price: USD 170.00
Duration: 60 minutes flight
Price: USD 270.00
Duration: 90 minutes flight
Price: USD 390.00
NOTE: Flying cost and schedule subject to be change with or without prior notice. Flights depend on weather conditions.